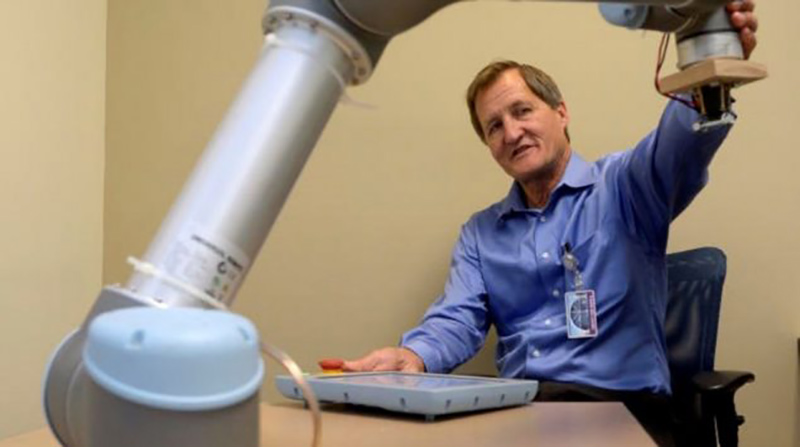 Compact tabletop robotic arms will soon help innovators and startups weave automation into manufacturing processes at Central New Mexico Community College's FUSE Makerspace Downtown.
CNM Ingenuity, which manages all of CNM's commercial activities, signed a new partnership agreement this month with Albuquerque startup Build with Robots to bring collaborative robot (cobot) arms and accessories into the makerspace. The company is a regional reseller of cobots made by the Danish firm Universal Robots.
Build with Robots will set up operations at FUSE Makerspaces' new headquarters at Innovate ABQ, the high-tech research and development hub being built on the seven-acre First Baptist Church property at Broadway and Central. CNM has remodeled the old 13,500-square-foot Noon Day Ministries soup kitchen and shelter on the west side of the site to accommodate the FUSE Makerspace, now housed on CNM's central campus.
Build with Robots will offer FUSE users access to the latest wave in automation technology when the new headquarters opens in late August, said CNM Ingenuity Executive Director Kyle Lee.
"Automation is a big part of the latest trends in workforce and business development," Lee said. "By working with Build with Robots, individuals at FUSE can learn about that technology and maybe work it into startup strategies."
Build with Robots will assist CNM in robot-related training. It will also help small businesses and micro-manufacturing firms use the technology for prototyping, or to incorporate it into operations.
Cobots are especially designed for small and medium-sized firms, said Build with Robots co-founder Randy Krall.
They're called "collaborative robots" because, unlike the heavy, expensive and often-unwieldy robotics used in high-end manufacturing, cobot arms can be used alongside workers to safely automate many types of repetitive or even dangerous tasks. That includes everything from drilling and soldering to painting, screw driving and fitting things in place.
"Traditional industrial robots move scary fast and are usually dedicated to specific tasks and locked in a room sheltered from people," Krall said. "Cobots are designed to be around people. They move slowly and have built-in sensors, so if it encounters a person it immediately stops."
Krall and his business partner, Chris Ziomek, are serial entrepreneurs who previously built and sold local startups backed by the Verge Fund. They launched Build with Robots to bring new, disruptive technology to the local startup scene.
"Cobots can help solve market problems for businesses," Krall said. "They're a perfect tool to create innovative solutions."
For FUSE, Build with Robots helps round out the range of high-tech assets already available in the makerspace, such as table saws, laser cutters and 3D printing.
"It brings automation to all the other advanced tools that will now be available to users in a single location," Lee said.