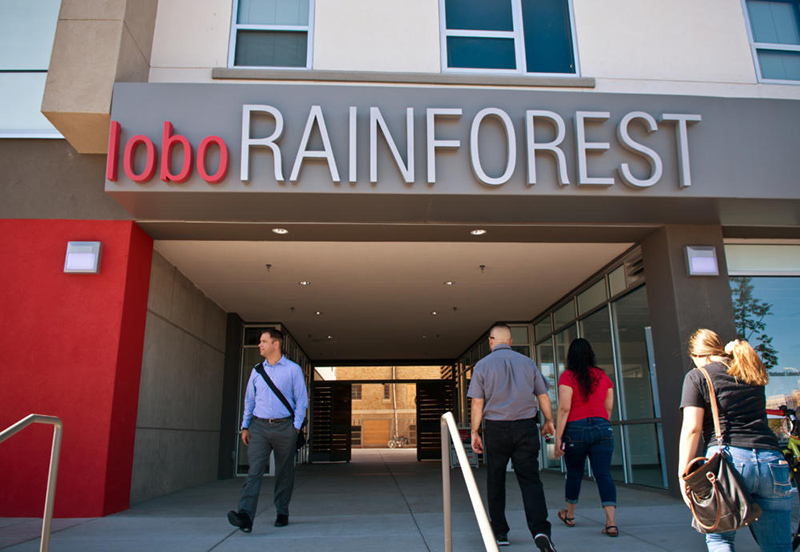 By Jessica Dyer / Journal Staff Writer –  View on Albuquerque Journal Online
ALBUQUERQUE, N.M. — Sandia National Laboratories is planting some roots in the Lobo Rainforest.
The lab on Friday announced it would lease space in the University of New Mexico's Lobo Rainforest Building, giving it more direct contact with the Innovate ABQ effort in Downtown Albuquerque and providing better networking opportunities for its own employees.
Dave Douglass, deputy lab director, announced the new development during a ribbon-cutting that marked the formal opening of the $35 million, six-story building at Broadway and Central.
Douglass said Sandia will staff its 1,000-square-foot suite full time, helping to link entrepreneurs in the community to the labs' capabilities and giving Sandia employees looking to start their own companies a place to access the resources and forge the connections they need.
Sandia has in the past facilitated those connections through occasional small business seminars, he said.
"Here it will be a permanent presence; they won't have to just wait for one of those scheduled events. The door's open. They can come in at any time and have that opportunity for impromptu, or just convenient, drop-ins as well as the interactions with the university and (fellow tenant Air Force Research Lab) by us being in all one place," Douglass said in an interview. "It's hard to think about what limits there are. It will provide some really limitless opportunities."
Lobo Rainforest's debut marks a major development in the larger Innovate ABQ project, a joint effort among numerous public entities and private partners, including the University of New Mexico, city of Albuquerque, Bernalillo County and Nusenda Credit Union.
Former University of New Mexico President Bob Frank, who helped guide the project from its start about five years ago, said adding Sandia labs was long part of the vision.
"That was part of our dream all along, which was to bring together the innovation of Albuquerque," he said in an interview. "What Sandia does and what Air Force Research Lab does is phenomenal, but you can't get through the gates to those things. …With this, we achieved what we dreamed of, which is the opportunity for frequent interactions."
In addition to hosting companies, the building includes the UNM Innovation Academy and residences for UNM students.
"Phase by phase, we are making progress in our vision to create a vibrant and inclusive district at Albuquerque's core focused on supporting diverse entrepreneurs, from high-tech to main street and micro-enterprise," Terry Laudick, Nusenda Credit Union president and Innovate ABQ board chair said in a news release.